Upcoming Virtual Consultation: Have Your Say in the Renewed Food Policy for Canada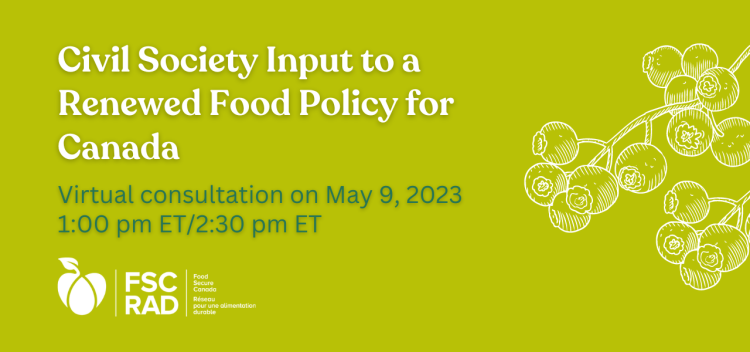 Monday, May 1, 2023 - 2:38pm
You're invited to share your voice in shaping the future of food policy in Canada in our upcoming consultation on the renewal of the Food Policy for Canada. 
For the first time since its inception, Agriculture and Agri-Food Canada is renewing the Food Policy for Canada. Consultations on the renewal, however, are not public-facing. 
In order to ensure that the voices of the food movement are heard in this process, Food Secure Canada is hosting a virtual consultation on May 9th from 1:00 pm to 2:30 pm ET to gather civil society input to a renewed Food Policy for Canada.
This consultation will provide an opportunity for civil society actors to shape the future of food policy in Canada by sharing their perspectives on key themes. 
---
The consultation will be organized in two main part:
Part 1 
Following an introduction, members from the Canadian Food Policy Advisory Council (CFPAC) and Agriculture & Agri-Food Canada (AAFC) will provide updates on the latest developments and initiatives related to the food policy in Canada, including progress made towards achieving the objectives of the renewed Food Policy for Canada.
Speakers will include Melana Roberts, member of the CFPAC, and Jason Baillargeon, Director of AAFC.
Part 2 (30 minutes)
Participants will have the opportunity to join a breakout group focused on a specific action area, where they can discuss recommendations to the government for the renewed Food Policy for Canada.
Backgrounders have been in included for each action area. We invite you to take a look at these backgrounders before the consultation, which provide context on how the action relates to the Food Policy and its Advisory Council and aim to steer the discussion towards this point of entry for progress. 
Moderators will then report back to the larger group with a summary of the key recommendations and insights generated by their respective breakout groups, and we will conclude the session. 
The consultation will be held in English and French with interpretation available. The breakout discussions will take place in English, except for the Francophone group.